Buffalo Meat Recipes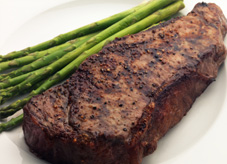 Welcome to our favorite Buffalo Meat Recipes and Cooking Tips.
Simply click on a recipe below to view. Find out more about the nutritional value of Buffalo meat on our Health Benefits page.
Although buffalo meat may be interchanged easily with beef in most recipes, it needs to be prepared and cooked differently. Due to its low fat content, buffalo meat does not marble, and generally cooks faster than beef. Buffalo meat is recommended rare to medium rare, cooked slowly at a low temperature.
Buffalo Roasts:
Buffalo roasts take the same amount of time or less than beef would at a higher temperature. The best oven temperature is 250° F, and a meat thermometer should read 125-130° F for rare buffalo sirloin tip roast, buffalo prime rib, and other tender cuts. Less tender roasts such as buffalo chuck roast cook best with slow, moist heat. They may be cooked all day in a crock-pot or Dutch oven to achieve maximum tenderness.
Buffalo Steaks:
Steaks are best broiled or grilled. To broil, move the broiler rack 3-5" away from the heat. Either on a broiler pan or grill, cook 1-1 1/2" steaks 4-5 minutes per side, turning once.
Ground Buffalo:
Ground bison may be prepared the same way as beef, however, cooking time and temperature may be decreased. Buffalo burgers can be broiled, grilled, or pan-fried; 5 minutes per side, turning once.
Prep time: 10 minutes
Cook time: 3 hours
INGREDIENTS
3 lbs Bison brisket
3/4 cup barbeque sauce
1/4 cup soy sauce
1 cup of water
DIRECTIONS
1. Preheat oven to 325ºF.
2. In a bowl, mix together the barbeque sauce, soy sauce, and water.
3. Place the brisket roast on a large piece of aluminum foil. Spread the BBQ sauce mixture generously over meat. Wrap the brisket in aluminum foil and place it in a roasting pan. Bake for 1 hour for every 1 pound of meat.
4. Remove from oven and let rest in the foil for 30 minutes before serving.
Yield: Serves 6-8
This is a simple and elegant dinner for two. Wonderful served with steamed asparagus and baby red potatoes.
2- 8 oz. Bison Filet Mignon steaks
1/2 teaspoon freshly ground black pepper to taste
salt to taste
1/3 cup balsamic vinegar
1/3 cup dry red wine
Directions
Sprinkle freshly ground pepper over both sides of each steak, and sprinkle with salt to taste.
Heat a nonstick skillet over medium-high heat. Place steaks in hot pan, and cook for 1 minute on each side, or until browned. Reduce heat to medium-low, and add balsamic vinegar and red wine. Cover, and cook for 5 minutes on each side, basting with sauce when you turn the meat over.
Remove steaks to two warmed plates, spoon one tablespoon of glaze over each, and serve immediately.
Ingredients
1 tablespoon good olive oil
8 ounces smoked bacon, diced
3 pounds bison stew meat or chuck roast cut into 1-inch cubes
Kosher salt
Freshly ground black pepper
1 pound carrots, sliced diagonally into 1-inch chunks
2 yellow onions, sliced
2 teaspoons chopped garlic (2 cloves)
1 (750 ml.) bottle good dry red wine such as Cote du Rhone, Pinot Noir or Burgundy
1 can (2 cups) beef or bison broth
1 tablespoon tomato paste
1 teaspoon fresh thyme leaves (1/2 teaspoon dried)
4 tablespoons unsalted butter at room temperature, divided
3 tablespoons all-purpose flour
1 pound frozen whole onions
1 pound fresh mushrooms stems discarded, caps thickly sliced
Directions
Preheat the oven to 250 degrees F.
Heat the olive oil in a large Dutch oven. Add the bacon and cook over medium heat for 10 minutes, stirring occasionally, until the bacon is lightly browned. Remove the bacon with a slotted spoon to a large plate.
Dry the bison cubes with paper towels and then sprinkle them with salt and pepper. In batches in single layers, sear the bison in the hot oil for 3 to 5 minutes, turning to brown on all sides. Remove the seared cubes to the plate with the bacon and continue searing until all the beef is browned. Set aside.
Toss the carrots, and onions, 1 tablespoon of salt and 2 teaspoons of pepper in the fat in the pan and cook for 10 to 15 minutes, stirring occasionally, until the onions are lightly browned. Add the garlic and cook for 1 more minute. Put the meat and bacon back into the pot with the juices. Add the bottle of wine plus enough beef/bison broth to almost cover the meat. Add the tomato paste and thyme. Bring to a simmer, cover the pot with a tight-fitting lid and place it in the oven for about 2 hours or until the meat is very tender when pierced with a fork.
Combine 2 tablespoons of butter and the flour with a fork and stir into the stew. Add the frozen onions. Saute the mushrooms in 2 tablespoons of butter for 10 minutes until lightly browned and then add to the stew. Bring the stew to a boil on top of the stove, then lower the heat and simmer for 15 minutes. Season to taste.
Serve over warm egg noodles or potatoes.
This tangy mustard-lime sauce is drizzled over grilled bison steak, creating an elegant dish. Excellant for buffalo Tenderloin, Ribeye, New York or Top Sirloin steaks. Serve with grilled asparagus spears.
Ingredients:
2 lbs bison steak of your choice
(4 1/2-lb buffalo steaks)
1 T fresh Basil, finely chopped
3 tsp dijon mustard
2 T Lime juice
1/4 cup White Wine
1/2 cup Buffalo soup stock ( beef stock will also work )
2 T Cream
2 T chilled Butter
Sauce:
First, make buffalo soup stock. Add 3 lbs of buffalo soup bones to medium-sized pot of boiling water; simmer for 1-3 hours. In a heavy saucepan, combine mustard, basil, lime juice, wine, and stock. Stir occasionally over high heat until mixture reduces by one third. Add cream and further reduce, until sauce slightly thickens. Add the chilled butter and whisk well. Remove from heat and keep warm.
Steak:
Lightly season buffalo steaks with salt and pepper. Place on a hot grill: cooking grate should be about 5" from coals. Grill buffalo steaks 4 minutes per side, turning once. Transfer steaks to serving plates; drizzle with sauce.
Ingredients:
1/8 cup fresh lemon juice
1/8 cup white vinegar
1/2 cup olive oil
1/2 tsp hot pepper flakes
1/2 tsp black pepper
1/2 tsp sea salt
2 T lemon zest
3 cloves minced garlic
1/4 cup chopped fresh parsley
1/4 cup chopped fresh cilantro
Combine all ingredients and stir well:
Marinate buffalo chuck roast overnight, turning over once to soak both sides. Remove buffalo chuck roast from marinade, and brown both sides over direct heat on grill. Remove from grill, cover in foil, and move coals to the sides of the grill, placing a drip pan in the center of the coals. Return roast to grill, and slow cook (indirect grill) over low heat for 5 hours, or until meat thermometer reads 180. F. Remove roast from foil, baste with Buffalo BBQ Sauce, and continue to cook for 30 minutes, turning roast once, and basting every 10 minutes.For a hickory flavor, add soaked hickory wood chips to the coals for the last half-hour of cooking.
This BBQ sauce is Texas-style; not too sweet or thick, mildly spicy with a zing. It is excellent on any buffalo roast or bison ribs. We love it on buffalo tri tips.
Ingredients:
1 14-oz bottle ketchup
1 cup cider vinegar
1/2 cup Worcestershire sauce
2 T Yellow mustard
2 T fresh lemon juice
1/2 tsp liquid smoke
1/4 cup chili powder
2 T paprika
1 tsp hot pepper flakes
1 tsp black pepper
1 tsp dark brown sugar
1/3 cup brisket or
bacon drippings
2 cups water
Combine all ingredients in a large, heavy saucepan and whisk. Bring sauce to a rolling boil over high heat. Reduce heat to medium and simmer, uncovered, stirring often until thick, ~30 minutes. This sauce will keep for several months.
This simple marinade is great for buffalo ribs.
Ingredients:
1-1/2 cups Dry Red Wine
1/2 cup Red Wine Vinegar
3 T Sea Salt
1/2 cup (packed) light brown sugar
1 T chopped fresh Rosemary
Combine all ingredients and whisk until salt and sugar are dissolved. This marinade will keep for up to a week in the refrigerator. Marinate for 3-6 hours. After removing from marinade.
Ribs:
Wrap bison ribs in foil, and cook at low temp. (indirect grill, or bake at 225) for 3 hours or until tender. Baste with smoky BBQ sauce, and grill for 15 minutes, adding soaked hickory or alder chips to the coals for flavor. p>
This dish is excellent as a main course, or an appetizer. As an appetizer, the tongue may be cut into cubes, with the sauce served on the side for dipping.
Ingredients:
2-3 lb buffalo tongue
1/2 cup brown sugar
1 T flour
1/4 tsp salt
1/2 cup cold water
1/2 cup orange juice
3 T lemon juice
1/2 cup raisins
In a large pot, boil tongue for 2-3 hours, or until skin begins to bubble. Peel outer layer from tongue. Slice into 1/2" thick slices.
Sauce:
Combine brown sugar, flour, salt, and cold water in saucepan and bring to a boil. Remove from heat and add orange juice, lemon juice, and raisins. Stir until combined.
To bake:
Pour sauce over sliced tongue, and bake in a 350. oven for 25 minutes.
To grill:
Grill sliced tongue 3 minutes per side, and pour sauce over slices when removed.
This delicious, melt-in-your-mouth recipe is best prepared with less tender buffalo roasts or steaks. I prefer London Broil or Buffalo Sirloin Tip Roast.
Ingredients:
2-3 lbs bison steak or roast
3/4 cup coarse cornmeal
3/4 cup unbleached flour
1 tsp salt
3/4 tsp black pepper
2 eggs, beaten
2 T olive oil
1/2 cup dry red wine
(or red wine vinegar)
1/2 cup water
2- 1/2 T tamari or other soy sauce
2 T chopped fresh oregano or thyme
2 cloves minced garlic
Slice the buffalo roast or steak into serving size pieces, about 1/2" thick. Mix together cornmeal, flour, salt, and pepper. Dip steak slices into beaten eggs, and then cover with flour mixture. Heat oil in large skillet. Brown steak in skillet in a single layer, and then transfer to baking dish. Combine remaining ingredients and add to skillet, loosening what's left in the bottom of the skillet. Pour this over the buffalo steak in the baking dish, cover with foil or a lid, and bake at 250 degrees approximately 2 to 4 hours. The longer it bakes, the more tender it will be! Garnish with parsley and serve warm.
A sweet, thick sauce to be brushed on buffalo ribs, or roast for the last 10 to 30 minutes of cooking.
Ingredients:
6 T (packed) dark brown sugar
1/2 cup cider vinegar
1/4 cup molasses
1/4 cup honey
1/4 cup Worcestershire sauce
2 T dark rum
2 T yellow mustard
1 T liquid smoke
1 T chili powder
1 tsp ground black pepper
2 tsp garlic powder
1 tsp ground allspice
1/4 tsp ground cloves
4 cups ketchup
Sea salt
Combine all ingredients, except ketchup, in a deep, heavy saucepan. Bring to a simmer over medium heat. Cook, stirring constantly, about 5 minutes. Stir in ketchup and bring to a boil, stirring well to prevent spattering. Add salt and pepper to taste.
Ingredients:
4 lbs Buffalo Stew Meat
3 T butter
1/4 tsp salt
1/4 tsp ground black pepper
2 medium yellow onions, chopped
1 medium red onion, chopped
4 cloves garlic, minced
6 stalks celery, chopped
2 green bell peppers, chopped
2 jalapeño peppers, chopped
3 14-oz cans diced tomatoes
1 28-oz can tomato puree
1/2 cup soy sauce
1/3 cup red wine vinegar
4 T chili powder
2 T cumin
3 T sugar
1-1/2 T garlic powder
2 15-oz cans red kidney beans
2 15-oz cans small red beans
Salt and pepper
In a large, heavy skillet, brown Buffalo meat in 1-1/2 T butter (you may have to do this in batches). Sprinkle meat with salt and pepper while browning. Transfer to a large, heavy-bottomed pot. Sautee onions, garlic, celery, green peppers, and jalapeños in 1-1/2 Tsp butter in heavy skillet until onions are soft. Add to buffalo meat. Add tomatoes, soy sauce, vinegar, chili powder, cumin, sugar, and garlic powder and stir well. Let simmer for about 2 hours, or until meat is tender, stirring often to prevent burning. Add kidney beans and red beans and stir. Add salt and pepper to taste, simmering an additional 15 minutes.